Auto Repair in Surprise, AZ
Welcome to Thunderbird Automotive of Surprise
Amazing Friendly and honest business. HIGHLY RECOMMEND
I needed one part replaced. Everywhere I went, there was a week's wait. I walked in to Thunderbird Auto, told them what I needed and they had it done within a couple of hours at a better price than the other places. They also checked over the car and gave me a complete list of what else needed to be done to it at no extra charge. They are very professional and honest and they gladly go the 'extra mile' to ensure the customer is satisfied. It was a pleasure doing business with them and... Read More
This place is first rate! Great service, great prices, and very knowledgeable.
Not a chain, and locally owned. Friendly, knowledgeable, attentive to your needs, responsive, no B.S. An all around pleasant experience. I WILL be a repeat customer
I called up to make an appointment to have my A/C repaired and took it in the next day and was asked about my time frame and I said ASAP. I was contacted and advised of what they found and what they were going to do and given a $$ amount. The amount was less then I thought it would be. A/C works great.
The staff and technicians show professionalism in their job. They find and fix what needs to be done. If other problems show up, they will inform you, and let you know the cost of repairs before proceeding. Excellent work and service.
Felt that I was getting friendly, honest and professional service. They: 1) reviewed my vehicle's past service records so they didn't go over things that had already done; 2) ask good questions to determine any problems & find out what I expected from them; 3) were prompt getting back to me with results (what was done/price) & when I could pick-up car.
They do quality work at a reasonable cost. Their shop is clean, efficient with the equipment and parts supplies to get you work done correctly. The staff including the advisors and mechanics are knowledgeable and experienced. I have been using them since I moved here four years ago for service, maintenance and repairs and have been extremely pleased!!!
Matt was incredibly patient, explaining each item of service and obtaining permission before proceeding. When the work was done, he provided guidance for future service, even advising about the items that would NOT need service, which was unusual and greatly appreciated. I highly recommend Matt, Brandon, and their colleagues. Great work!
Brought my Ford Transit Connect in to be checked out as it was running rough. Matt and his team did the most thorough inspection I have ever seen from a auto repair shop. They documented everything that was wrong with my vehicle and even took pictures. Never had a shop do that before. Yes they corrected the most important parts for my safety and the vehicles performance. The truck runs better then ever now. Thanks to all of you at Thunderbird Automotive of Surprise.
SureCritic Reviews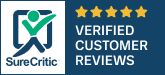 Family-Owned & Operated
Welcome to Thunderbird Automotive of Surprise, the area's most trusted and awarded name for auto repair. We are family-owned and operated right here in Surprise, AZ and fully-dedicated to our community of drivers. Everything we do is for you! From prompt problem solving and accurate diagnostics to complimentary alignment checks and shuttle service, we make your visit to the auto shop easier than ever. We have maintained our strong reputation for honest and reliable auto care, because we believe that is the only way it should be in the automotive industry! When you visit our shop, you receive the kind of care we would want for our own family and treat you as such. Putting our customers first is just one way we ensure our customers always leave satisfied and happily return to us for future auto repair needs.
We Work on All Makes & Models
Thunderbird Automotive in Surprise, AZ welcomes all make and models into our state-of-the-art facility. Our Automotive Service Excellence (ASE) Certified technicians have decades of experience working on all kinds of foreign and domestic vehicles. We are so confident in their knowledge and expertise that we guarantee the quality of every repair with a 36-month/36,000-mile warranty. Their dedication to providing premier auto repair for our community helped us earn the ASE Blue Seal of Excellence. Thunderbird Automotive proudly commits to the best practices and standards in the industry, all so our customer can travel reliably and safely wherever their day takes them.
We're Glad You're Here
…Problem Solving Is Our Specialty, Exceeding Customer Expectations Is Our Priority…
Schedule Service