Auto Repair in Surprise, AZ
Welcome to Thunderbird Automotive of Surprise
Great company. Firstly honest, knowledgeable and fair in their pricing. If you have mechanical issues it is the best place to take your vehicle. Thanks guys.
Nice employees and very efficient! Educated me on a few things I didn't realize about my car as well. Not money hungry and were fair!
Great quality work that was done timely. Did what i asked them to do. They identified a few items that they suggested could be done later. No high pressure to do the work now.I was able to decide what and when I wanted their suggestions completed. Matt is very friendly and helpful.
We would highly recommend the team at Thunderbird Automotive for auto repairs. The shop was clean and organized which speaks volumes. All the repairs that needed to be done were laid out before they started work so there was no surprises. Great staff and great service!
Hands down the best auto shop in the Valley! The staff is kind, courteous, and very helpful from beginning to end. They also have the lowest prices that I've seen from other auto shops.
I sincerely appreciate the attention Thunderbird Automotive gives in the care of my vehicles, which I intend to keep for a long time and expect with the service they receive here that I will be able to do just that.
Nobody likes car repairs. However, if needed Thunderbird Automotive is great. Friendly staff, like Matt and Brandon, great mechanics and reasonable prices. They seem to care about your repair needs.
"Courtesy, integrity, and knowledgibility They guys at Thunderbird always know what they're doing and do it with honesty and integrity. I wouldn't take my car anywhere else."
- Les D
"Thunderbird Automotive provides the very best in efficient, professional and attentive customer care. After going here, we will never trust our vehicles to another auto service."
- Jack/Rhonda H
"Thunderbird is very good at what they do! So good, in fact, that my husband left another business he had been using since we first moved to Surprise...and we've both been very happy with everything this company provides: competence combined with a wonderful family feeling and sometimes fun surprises (like movie tickets!)."
- Linda S
SureCritic Reviews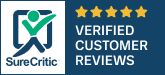 Family-Owned & Operated
Welcome to Thunderbird Automotive of Surprise, the area's most trusted and awarded name for auto repair. We are family-owned and operated right here in Surprise, AZ and fully-dedicated to our community of drivers. Everything we do is for you! From prompt problem solving and accurate diagnostics to complimentary alignment checks and shuttle service, we make your visit to the auto shop easier than ever. We have maintained our strong reputation for honest and reliable auto care, because we believe that is the only way it should be in the automotive industry! When you visit our shop, you receive the kind of care we would want for our own family and treat you as such. Putting our customers first is just one way we ensure our customers always leave satisfied and happily return to us for future auto repair needs.
We Work on All Makes & Models
Thunderbird Automotive in Surprise, AZ welcomes all make and models into our state-of-the-art facility. Our Automotive Service Excellence (ASE) Certified technicians have decades of experience working on all kinds of foreign and domestic vehicles. We are so confident in their knowledge and expertise that we guarantee the quality of every repair with a 36-month/36,000-mile warranty. Their dedication to providing premier auto repair for our community helped us earn the ASE Blue Seal of Excellence. Thunderbird Automotive proudly commits to the best practices and standards in the industry, all so our customer can travel reliably and safely wherever their day takes them.
We're Glad You're Here
…Problem Solving Is Our Specialty, Exceeding Customer Expectations Is Our Priority…
Schedule Service